Augmented reality (AR) applications are not new, however, tools for AR development are becoming more refined and more accessible. Last month, Apple introduced iPhone X and its operating system – iOS 11: a game-changing combination allowing incredibly immersive and fluid AR experiences to take center stage for iOS app development.
The potential for AR app development is endless, and there are a myriad of opportunities for every industry to take advantage of this rapidly advancing technology.
Developing an AR app is an excellent way to establish a competitive edge for your business. As AR app development tools are becoming more accessible to developers, businesses are presented with original opportunities to creatively address and solve customer pain points. Overall, embracing AR technology can intrigue new audiences and produce significant return on investment by converting occasional users into brand-loyal customers.
What Is AR?
AR is the process by which digital information is incorporated into a user's physical environment in real time and real dimension.
Before deciding to develop an AR app, it's important to fully understand what AR is. A thorough understanding of the technology will help determine if the features of an AR product are suitable for achieving the desired results of the overall development project.
Developing With iOS
Apple is at the forefront of delivering advanced AR development tools, as well as providing an operating system to support them, and a device to enrich them. A native iOS app is a worthy option for delivering a high-quality AR experience for your brand. As iOS 11 and iPhone X are transforming AR mobile app development tenfold, there are considerations you should keep in mind when developing your app. We've outlined them below.
Visual Excellence
With the first ever OLED, all-screen display, an unheard of one million-to-one contrast ratio, and the highest pixel density of any mobile phone on the market right now, iPhone X sets an unprecedented standard for visual excellence. The device also comes equipped with advanced image and video capturing technology capable of processing light and interpreting depth of field. iPhone X's collection of supercharged features make it an excellent device to deliver incredibly realistic AR experiences.
The combination of the iPhone X's TrueDepth camera and the operating system's machine learning framework allow for incredible accuracy in AR application. Using iOS 11 allows developers to integrate enhanced device motion tracking, as well as precise screen processing to deliver a truly seamless AR experience.
Design For High Definition
Designing for a phone with such high standards for visual quality requires first-class artwork to provide the best possible user experience. iPhone X has a large, high-resolution display that delivers an "immersive, content-rich experience" for users.
iPhone X's high-resolution display calls for graphics with equally high resolution. All of the app's artwork needs to be calibrated to support such a high definition display.
Incorporate An Element Of Realism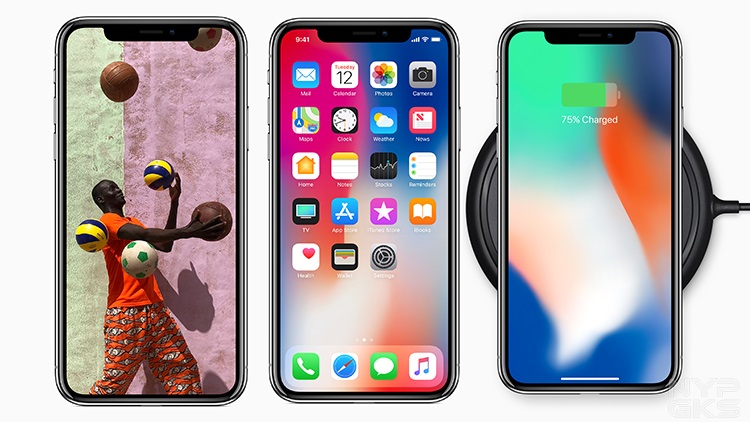 iPhone X's camera system is furnished with an ambient light sensor making light estimation a possible feature for AR apps. With this technology, AR apps can be programmed to interpret a scene's lighting and modify digital objects to be consistent with existing lighting conditions for a more realistic interaction.
Digital elements should appear to be within the user's physical environment. To create an authentic experience, graphics should be designed with realistic details and textures that change with the physical scene and respond to lighting deviations with appropriate shadows and reflections.
Keeping the AR session as lifelike as possible enhances the overall experience by creating a sense of immersion.
Simple Interactions
AR apps rely heavily on gestures, so it's important to consider the fundamental interface interaction principles intrinsic to iPhone. Users have become accustomed to a set of universal gesture principles and interact with their devices intuitively. To deliver the best user experience possible, it's important not to stray too far from traditional gesture movements.
Users won't be willing to relearn the way they interact with their devices. Incorporating custom gestures, or reassigning traditional gestures to uncharacteristic actions will make your app difficult to navigate and users are likely to abandon it completely.
To guarantee successful user interaction, the following iPhone gestures should remain universal:
One-finger tap to trigger an action or select an item.
Drag to slide items across the screen.
Double tap to prompt content-specific zooming features
Pinch to prompt adjustable zooming features
Swipe to alternate between screens, change viewing preferences or expose action buttons
With iPhone X specifically, developers need to pay close attention to systemwide screen-edge gestures. As the world already knows, iPhone X no longer has a home button, instead, users swipe up to return to the home screen. Users require this action to function properly across the entire device. When developing an AR app for iPhone X, it's necessary to program gesture interactions within a safe distance of this critical feature.
Functionality is crucial for the success of any mobile app, but AR applications arguably require particular attention to precision because of the interactive nature of their design. The key to successful AR is softening the boundary between the physical device and user experience. If a user has to adjust, relearn or even give a reasonable amount of thought to their gesture interactions, the device itself becomes apparent and immediately ruins the authenticity of the AR experience.
Brand Association
AR apps present some particularly tricky obstacles to navigate in terms of brand association because these applications deviate from traditional user interfaces.
Generally speaking, standard mobile apps adhere to a formulaic interface blueprint where content is displayed as a canvas of menu bars, buttons, text fields and other objects. This style of the interface makes it easy to incorporate logos, color schemes and other trademark material allowing users to effortlessly connect apps to specific brands.
With only a glance, an onlooker can instantly identify if someone next to them is using Facebook or Instagram, for example.
AR apps do not display neatly packaged content blocks, rather they present the user with the opportunity to interact with an onscreen replica of their physical environment. AR apps seek to provide the user with an authentic interaction, leaving little room for branding collateral. In fact, branding materials can seem largely out of place in an AR interface.
So how do you incorporate a brand identity into an AR app without interrupting the flow of the overall experience?
Branding should never overpower the content. For inspiration, look to big brands who are already capitalizing on AR applications – like Ikea.
Case Study: Ikea Place
Countless interior decorating brands are experimenting with AR applications, but Ikea Place easily stands out from the crowd in terms of branding, positioning themselves as the leader in the virtual decorating app.
The genius of Ikea's in-app branding is the simplicity of its execution. The app uses a clean splash screen to display Ikea's logo, and the color scheme and fonts are streamlined with the brand's existing digital content.
Ikea also uses instructional text to incorporate brand material. Through the process of initializing camera and location access, Ikea sparingly includes Swedish text: a major identifier for Ikea's brand persona.
Ikea applies enough brand identifiers to their app to make their identity visible and memorable, but branding is never prioritized above experience.
The Future Of AR Applications
As technology advances, users expect more engaging and personalized experiences from apps, and AR delivers.
An AR app affords businesses the opportunity to solve customer pain points in a personal and memorable way. Partnering with an AR platform can deliver significant results for businesses looking to amplify awareness, fortify brand affinity and increase conversion rates.
It is clear that AR is steadily growing in popularity, and Apple technology is a key driver in the advancement of AR accessibility and performance.